In this article, we share Balloon Wedding Decoration Ideas you can use on your Indian wedding.

Balloons are not just for kids anymore. Balloons have become a trending wedding décor for an Indian wedding. While the flowers, drapes, lights or glitters, never go out of style, many couples look for creative ways to make their wedding a much more memorable experience. Balloons add a unique touch and enhance the excitement. If you are looking for creativity in your wedding, try these balloon wedding décor.

Of course, one may think that using balloons sounds like you are throwing a birthday party for kids but we are sure you will change your mind after reading these fabulous ideas.

Here are some best ways to incorporate balloons in your Indian wedding décor.
At the entrance



Set the first impression by having a balloon arch placed on the entrance of the wedding venue or have the entire passage decorated with beautiful balloons. You can choose between monochromes or have a combination theme. Opt for colours that go well with your wedding décor.
Background of the Mandap


Talk to your wedding planner or Mandap decorator and ask them to add a dreamy element of balloons as the backdrop of your mandap/stage. Discuss with your decorator whether they can create a balloon wall or make interesting shapes to enhance the ambience.

For instance, if you are having a traditional Kerala Christian wedding, then you can tie balloons on the seating area (benches).
Use balloons in table centerpieces

Another on the list of Balloon wedding decoration ideas is placing g
orgeous arranged balloons as a centerpiece on the tables not only becomes an excellent topic of conversation but also syncs well with your happiness. Make this concept more appealing by opting for some festive balloon shades such as red, golden or something that goes with your theme. You can see how the balloons are attached with heart-shaped strings. They have also used the pastel colored heart shapes as a confetti in the balloons.
Using balloons for sculptures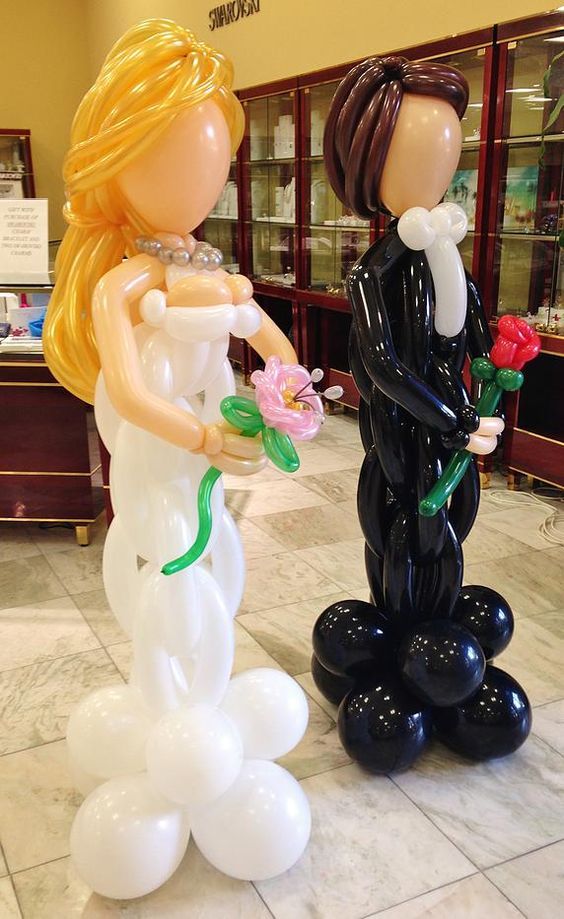 A lounge or any corner in a venue that is unused can be used to place a Balloon sculpture. For instance, an empty area near the wedding stage, near the food station, etc. The beauty of the balloons is sure to enhance the entire wedding décor adding a distinctive look. What makes it even more fun is if you keep the theme of this décor related to Indian Weddings!!! You can also go for live size sculptures of bride and groom.
Let your outdoor wedding glow


If you are having a night wedding in an open farmhouse or a destination wedding outdoors, then you will love this balloon décor. Work out an idea and incorporate balloons to the venue. Attach mini LED lights or glowing sticks to the balloons and place them in unlit areas. You can also hang them on a tall sculpture or spread them all over the floor to give a romantic touch to your wedding.
Fill the ceiling of your wedding venue



While the above was for couples who want an outdoor wedding, this one is an interior décor. Fill up the ceiling of your venue with helium balloons that will make the ambience look spectacular and striking. If you don't want to fill up the ceiling with balloons, you can place a few big balloons at a specific distance from each other.
Design the dance floor

Disco lights and glowing dance floors are passé. The balloon designs are so "in" and loved by many who are not only a child at heart but also want to stay in style.
Balloons at the food station

Surprise your guests with your creativity by decorating the buffet area with balloons. Don't use huge, ginormous balloons. Play it minimal by placing two to three balloons beside each dish. You can also use balloons at the backdrop of your buffet table.
On your wedding car

Ditch the clichéd flowers and go with balloons on your wedding car. Embark on your new journey as husband-wife with a car decked with lovely balloons. Undoubtedly, it will become one of the most romantic memories of your life.

Got any more balloon wedding decoration ideas
? Share with us in the comment section.