This article covers the Kerala Wedding Jewellery sets, the Malayali bridal trinket designs and how to look simple and divine.

A traditional Kerala Wedding might look elegantly simple but the Kerala Wedding jewellery sets worn by the bride outshine all other elements. The different layers of gold Kerala bridal necklaces that extend to cover her bosom make her look like a divine goddess. Every culture has its own stories to tell, be it traditional attires or ceremonies or jewellery.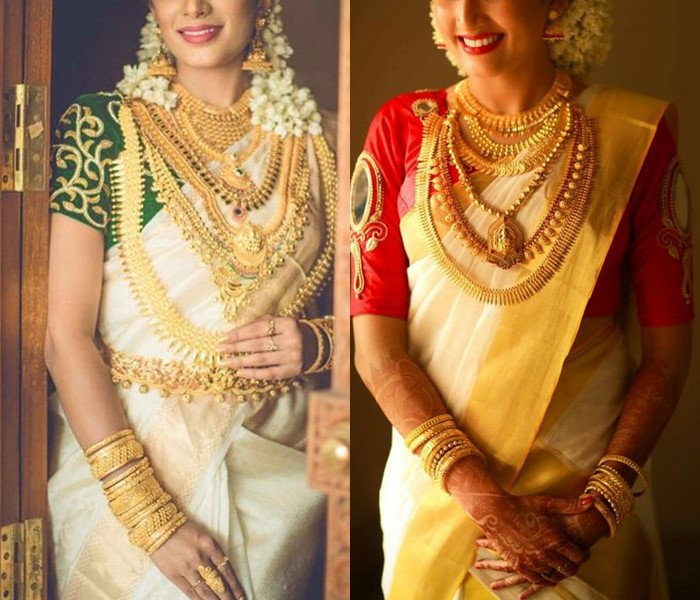 Did you know there is a story behind her weight in gold? Each of the necklace strands has its meaning. Furthermore, that is the story we will be sharing with you with few minor contrasts in the size and pattern for these gold ornaments.

The speciality of Kerala wedding jewellery sets is that they are carved using purest gold. That's the reason why brides all over the country travel to Kerala to find the most exquisite designs that will turn out to be a treasured piece of her trousseau as she sets on her new journey.
1. Mulla Mottu Mala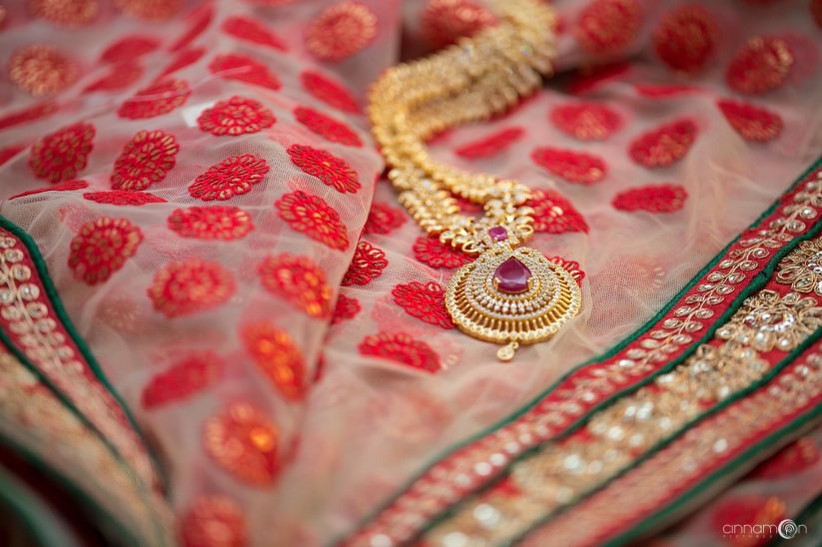 A traditional Necklace adorned by the bride, it appears like small jasmine buds have been conjoined together representing a floral mala. It is normally a long necklace and is part of the outermost line of chains in Kerala wedding jewellery sets. The length of the necklace adds a rich and royal touch to the entire attire.
2. Manga mala


Manga (Malayalam name for Mango), this neckpiece is made using small paisley mango-shaped pendants that are connected together. It is embedded with valuable gemstones such as emeralds and rubies. The remarkable precision of work is hard to miss as you are sure to fall in head over heels in love with this piece.
3. Lakshmi Mala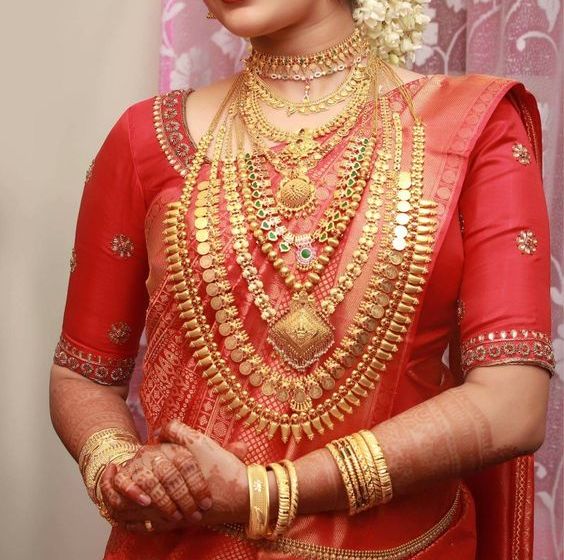 The Goddess of Wealth has her own place in the Kerala Bridal Jewellery. The Lakshmi Mala or Kasu Mala is a necklace of tiny gold coin motifs with Goddess Lakshmi engraved on the coins.

The Lakshmi Mala justifies that the bride's aura is the goddess of prosperity for her future home. It also hits that the bride being the avatar of Lakshmi herself will bring good karma, wellbeing to the house she will be part of.
4. Palakka Mala


A gorgeous necklace with gold leaf pattern studded with green rubies, Palakka Mala is also embedded with valuable rubies and pearls that lay in a bed of gold. The colours represent fertility, wealth and prosperity and play a vital role even in the millennial bride's choice of Kerala wedding necklace sets.
5. Nagapada Thali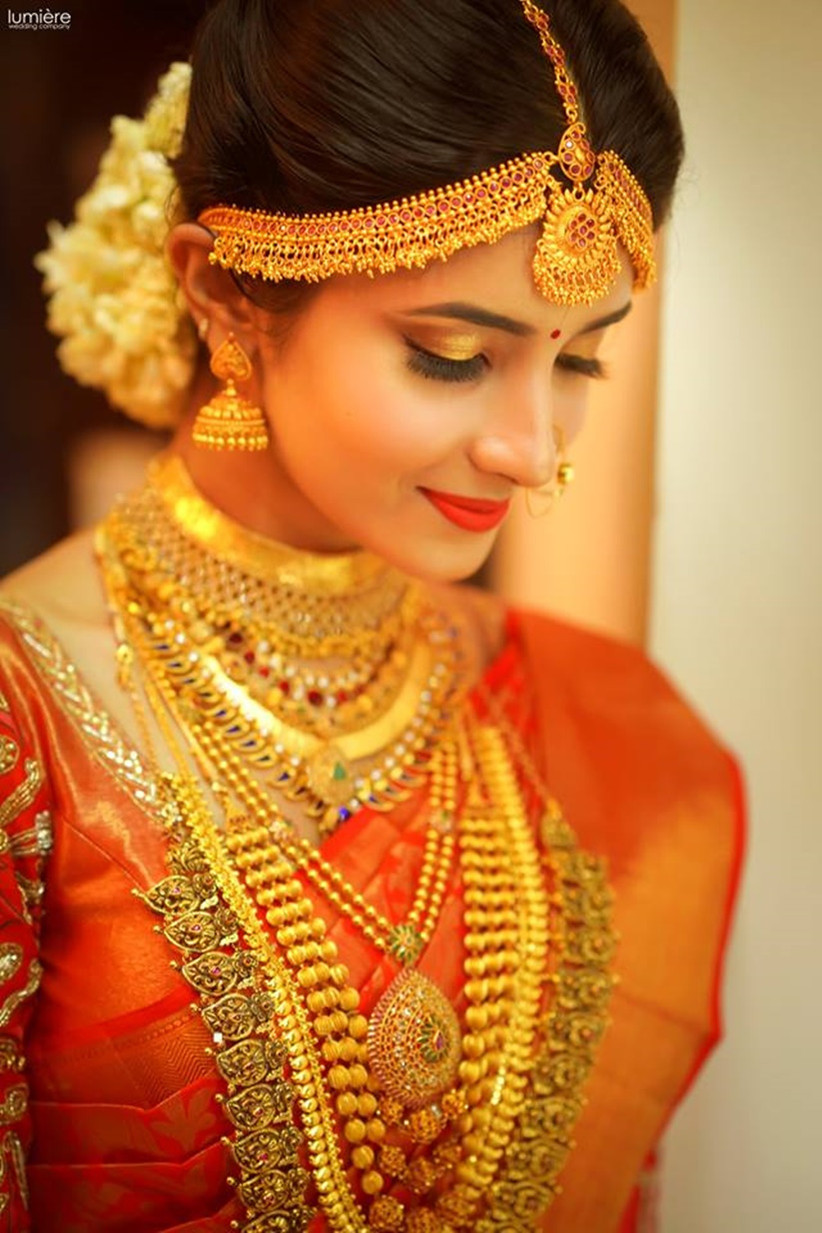 Inspired by the Naga, the great King Cobra, the Nagapada Thali is placed closer to the neck. A pretty neckpiece embedded with glittering rubies and emeralds in a gold bed, it steals the look even when you wear a simple wedding Kasavu saree.

The Nagapada Thali signifies the royal aura and strength at the same time. The design is meant for any special occasion especially something big as the wedding.
6. Pathaka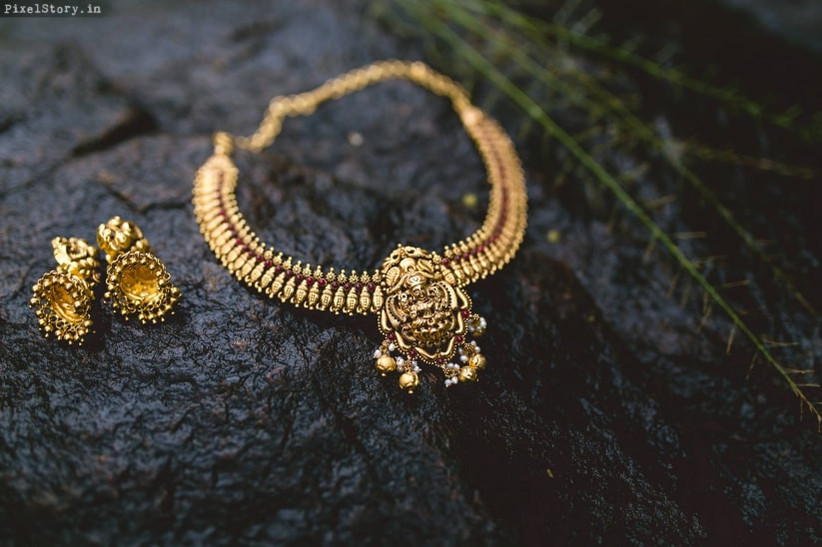 A stunning piece of craft, this is the first necklace in the Kerala bridal jewellery set that the bride wears. This is a large round pendant that is studded with precious gems in the centre of the necklace that is strung through a thick gold chain.

Traditionally, the pendant has an engraving of Goddess Lakshmi on it. This classic necklace is an essential masterpiece that makes its way to every Kerala bride's trousseau due to its ethereal design. This is one of the most sought-after pieces in Kerala wedding Jewellery sets.
7. Poothali Mala


This is a staggering piece of art that comes with broad motifs of flowers and leaves inspired by nature. The Thali or the little elements of gold that dangle from the necklace gives a beautiful rhythm and flow that compliments the bridal look.
8. Elakkathali


This exceptional choker neckpiece is a must-have in your Kerala Wedding Jewellery sets. It sits on the top of other necklaces worn by the bride. It is made using pure gold plates that are weaved together which forms a thick chain giving a stunning art work.
9. Jhimki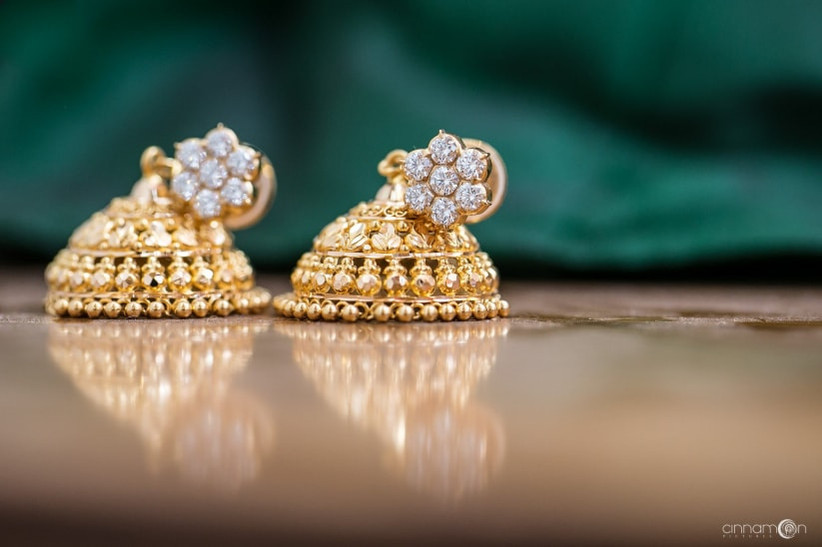 Jhumka (in Hindi) or Jhimki (in Malayalam), these gold earrings come with small dangling bells that are embedded with diamonds, pearls, rubies and emeralds. This conventional earring style from Kerala is normally coordinated with one of the necklaces worn by the bride.
10. Kolusu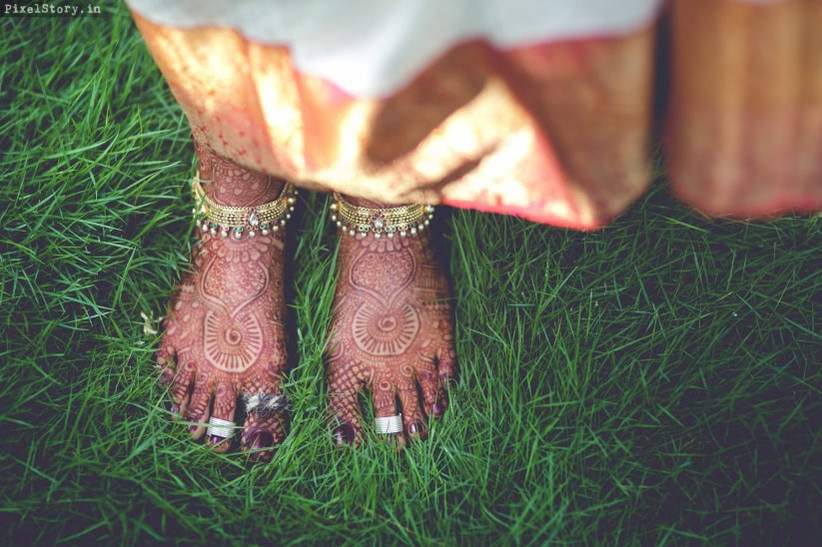 A Kolusu is a Payal adorned by the bride on her big day. Though it is traditionally made in silver for daily purposes, Kolusu is worn in Gold on the wedding day. A gold style anklet is additionally studded with precious gems that make a pleasant sound with every step the bride takes.
11. Palakka Bangle


The design of the bangle matches well with the design elements and leaf motifs of a Palakka Mala. This infinity style bangle features the gorgeous leaf motif that is studded with precious stones that are repeating in a continuous loop. Meenakari jewellery pieces are another way to accentuate the bride's wrist even more.
12. Hair Accessories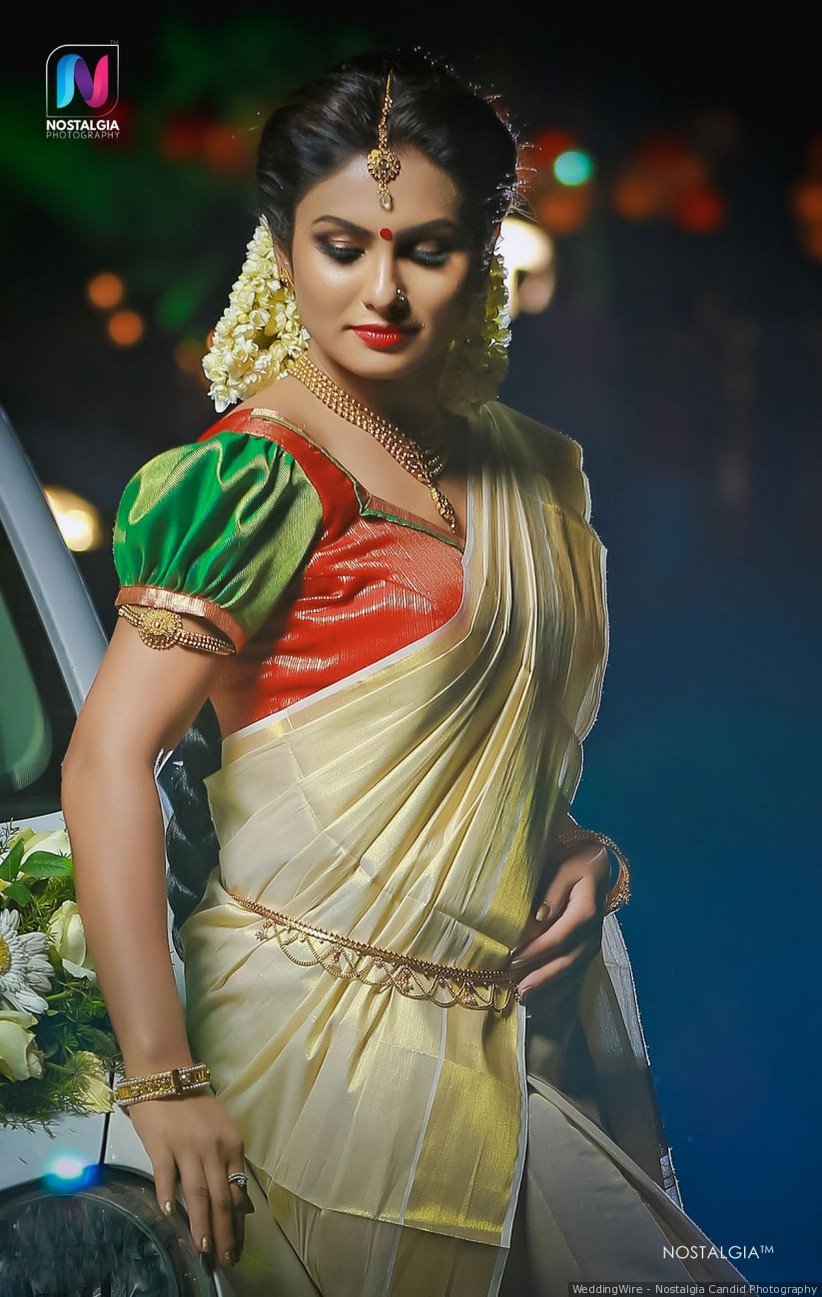 Kerala brides wear strings of fresh jasmine flowers on their hair. This is combined with a beautiful gold Maang Tikka that is embedded with precious gemstones that complete the look of the bride.

To sum it up, Kerala Wedding Jewellery sets is quite an organized and conventionally arranged pattern that begins from the top with its increasing length that works its way to the bottom in such a way that you will love to be clad in gold at your fairytale wedding.
↑