This article is all about Top 6 Kerala Gold Bridal Necklaces that have been worn and favored by many brides throughout the years.

Kerala marriages are incomplete without the addition of gold. Gold is considered as an auspicious metal and Keralites have an exceptional love for gold ornaments. Regardless of religion or caste, practically all ladies in Kerala wear gold ornaments. As far as the bridal jewellery is concerned, gold is preferred over diamonds or other exquisite stones. A typical Kerala bride dons a lot of gold that is also deemed a reflection of her family's stature.

The popular traditional ornaments are rings like Payyannur Pavithra Mothiram, gold necklaces like Manonmani, Ilakkathali, Poothali, Palaykkamala, Mangamala, Dalamini, Chuttiyum Chelum and Puliyamothiram. Few of the ear studs include Jimikki, Kannuneerthulli, Thoda and bangles like Kappu etc.

But before you go out investing in your Kerala bridal jewellery, here are few of the tips worth reading before buying your bridal jewellery.
4 Tips to Keep in Mind before Buying Your Wedding Jewellery

Needless to say, your wedding is one of the most significant day of your life. As a lady of the hour, you want to look your best. It's the moment when you commit your life to another person and join yourself in holy matrimony.

While jewels and accessories are a crucial factor that add a panache to your attire, the ornaments you choose play an inevitable role in enriching your overall look.

Here are some vital tips that you need to keep in mind before buying a wedding jewellery.
Purchase your ornaments before the dress

Many people buy the wedding dress first and after that the jewellery. Bear in mind that the jewellery is much expensive than your clothing and your dress should highlight the jewellery. Regardless that you are ordering South Indian Jewellery or any other contemporary/vintage collection, ensure that the jewellery should stand out while complementing your outfit.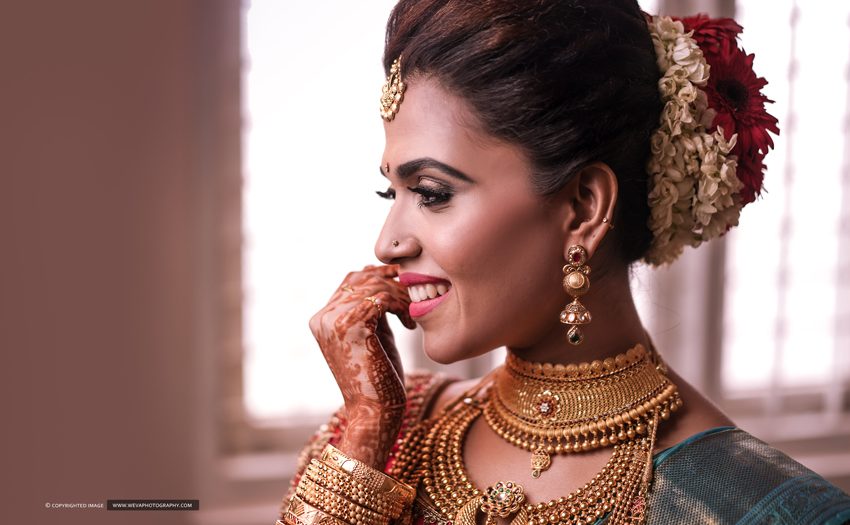 Pick your jewellery as per the event

There are many ceremonies and rituals associated with a wedding so make it a point to buy your jewellery as per the occasion. For instance, Haldi and Mehndi functions require minimal accessories – light gold chains, gold earrings, etc.

For engagement, you can concentrate on your ring without emphasizing much on other areas. A diamond necklace will look stunning and chic for the reception ceremony.

Stating the obvious, the wedding day is of utmost prominence and we advise to stick with the traditional look. Staying true to your roots, a Kerala bridal look implies beautiful details with gemstone embellishments. Keep in mind that the neckline of your outfit must match the necklace design to augment the appearance.

While you are choosing your earrings, the hairstyle plays a prominent role. For instance, if you are going for buns or other up-dos, heavy earrings will look great. If your hair is down, go for light, longer earrings that will compliment your whole look.
Put your money in accessories that last a lifetime

Make sure that your wedding trousseau features some pieces that you can wear even after your wedding day. Choose jewellery that will last a lifetime and will not make you look outdated – such as heritage gold bangles, nose pin, pretty jhumkas, etc. Brides nowadays buy detachable wedding jewellery that can be easily transformed into something simpler at a later stage. Chokers are always trendy and make a great addition to any jewellery collection.
Be comfortable

Ultimately, the most key point is to feel good and comfortable in your jewellery. This is your big day and you want to savor the moment as much as possible. Try and avoid very heavy earrings for occasions when you are required to dance. Note that jewellery should not make you feel restricted but increase your glow.

Here is a list of famous 6 Kerala Gold Bridal Necklaces you will fall in love with that are classic looking and will enhance the beauty of any bride.
Top 6 Kerala Gold Bridal Necklaces
Lakshmi Mala

Lakshmi neckpieces have a number of coins embedded with the idol of Goddess Lakshmi on each coin. In Hinduism, Lakshmi is viewed as the Goddess of Wealth, material and spiritual prosperity. And what best way to have a wedding than to own a Goddess Lakshmi Necklace.
Manga Mala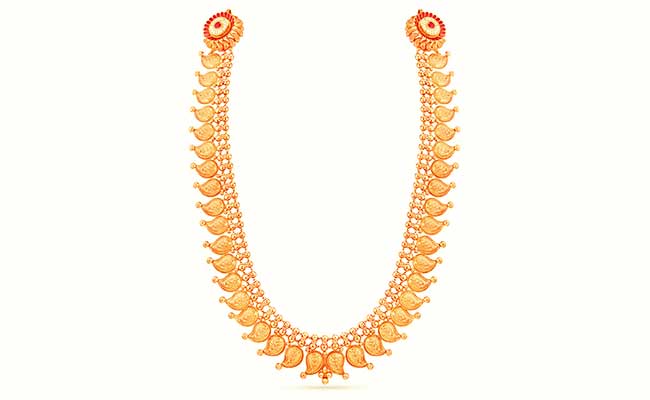 Manga means Mango in Malayalam. Given the shape of the pendants that are designed like small, fine mango strung in a necklace, the mango shaped pendants heighten the bride's radiance. Many people add exquisite designs to the Manga mala to give it a more ethnic look.
Mulla Mottu (Jasmine buds)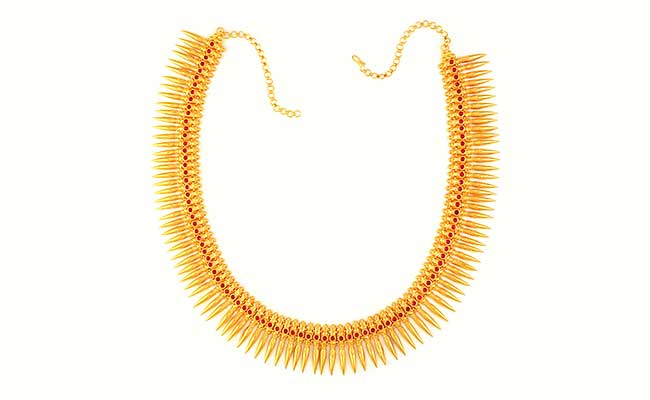 This traditional neckband comes with a number of small gold petals shaped like jasmine buds that are strung in a gold string. It is available in gold and also a combination of gold and stone studded.
Palakka Mala

A striking mix of emerald and ruby, Palakka mala is another bridal necklace that is evergreen and is favored among many Kerala marriage neck pieces. However, with changing trend, they arrive in more alluring designs involved giving the conventional Palakka Mala more attractive.
Nagapada Thali

The Nagapada Thali somewhat resembles the Palakkad Mala, the only difference being the shape of the pendants are different. Many Kerala brides today prefer a contemporary rendition of the color and designs.
Pulinakham Mala

Literally translating to "tiger's nail", the Pulinakham Mala is made using emerald and rubies that are shaped to resemble a tiger's nail. When they are strung together, they become one of the most extraordinary and classic Malayali gold jewellery you will ever see.
Pathakam

One of the exemplary pieces of wedding jewellery, Pathakam is mandatory in Kerala bride's trousseau. Pathakam is a chain with pendant that is generally worn as the first necklace in the layer of the entire wedding jewellery. The pendant are either studded with stones or pure gold pendant. Being the very first necklace in the bridal jewellery layer, it sits closest to the neck. A conventional Pathakam neckpiece comes with Goddess Lakshmi engraved to it. Some may also embed it with emeralds or rubies.

There you go. The top 6 Kerala Gold Bridal Necklaces worn by many South Indian brides that upgrades the beauty of the bride in every way. You never know when you need to check these designs out yourself.

If you are looking for a Kerala bride or Kerala groom, then register at Kerala Marriage.