In this guide, we will talk about 8 Mistakes to avoid while sending WhatsApp Wedding Invitation.
Go Paperless with your wedding invites
Times have changed. Gone are the days when people used to send wedding invitations via the post office. With everything going digital, wedding planning has become much easier. From
online matrimonial sites
to wedding invites, everything is easily accessible through technology.
Wedding invitations
play a prominent role in Indian Wedding. After all, it's the way to announce people to "save your dates" and be part of the big Day.
The techie world offers you free and complete access to themes, designs, wordings, etc. to create your wedding invitation online. With access to all the elements, the way of inviting your near and dear ones just got better.
While the actual
paper wedding invitation
still plays a pivotal role in many parts of India, a
wedding invitation via WhatsApp and social networking sites such as Facebook
are considered very much valid.
Another advantage of
social media wedding invitation
is that it saves you a lot of money especially if you are on a budget limit. While the wedding preparation is already a task, there are many more things involved to make the wedding a successful affair. WhatsApp isn't simply just another chat messenger as you can send your location, money, etc. You can even buy or sell products with
WhatsApp Business App.
Same goes for wedding invitation as well.
Personalized digital wedding invitation cards
are not just text message and give the invitee a special consideration as you want them to be there.
That said, WhatsApp Wedding invitations come with a share of drawbacks too. That is the reason we take a look at the most
common mistakes to avoid while sending WhatsApp Wedding Invitation
without getting a cheeky response in return from uncles, aunties or few tough friends.


1. Stay away from the tendency to 'Forward'

With the 'Forward' feature available on WhatsApp, you don't want people to think that it's a casual invite without any sincere intention. While it is a tedious task, given how many people you are going to invite, it is much better to add a personal touch than coming off rude or uninterested.
2. Avoid typo errors
We understand you will have thousand things running around in your head. From
bridal jewellery
to
planning a destination wedding
, there must be many things going in your mind.
If you are sending to more than 100 people, proofreading before sending out the WhatsApp wedding invitation is a must. If you have a grammar ninja at home, ask them to read and edit (if necessary) before you fire it off to the invitees. It's not about spelling or grammar but it's also about missing an important detail. However, Details such as timing, location, venue, date, etc. matter as even the good looking invites can be a disaster if you miss out any vital detail.
3. Address them personally

It's easy to just click on "Forward" and share to all the contacts. But a personal touch implies a great deal as it shows you need the person to be present at the occasion. Rather than simply forwarding, make it a point to address everyone while sending your WhatsApp wedding invitation which is sure to make a difference.
4. Follow up on the invitees

Simply an invite and assuming that they will show up for the wedding just doesn't work. It not only sounds impersonal but might also make the person feel that you have sent an invite (on WhatsApp) just for the sake. Follow up with the invitees by calling them or a personal text a day later. It's always best to go the extra mile.
5. Cut short on the lengthy invitation

It's alright to get enthusiastic about your wedding. Everybody is!!! However, when you are sending out invitations, do not go overboard with feelings and add every little detail. You can save "how you folks met" or "who proposed who" for later occasions. The long text will make the invitation look exhausting and the reason you are sending e-invites is that no one has the time. Need we say more?
6. Don't make the wedding invitation look heavy

A classy and subtle look is what everyone loves! Don't make your wedding invitation look like a Karan Johar movie set. Adding grandeur designs and heavy themes will look cluttered. Choose simple fonts that are easy to read, stick with one colour theme and minimal designs that will look elegant and simple.
7. Avoid using a casual tone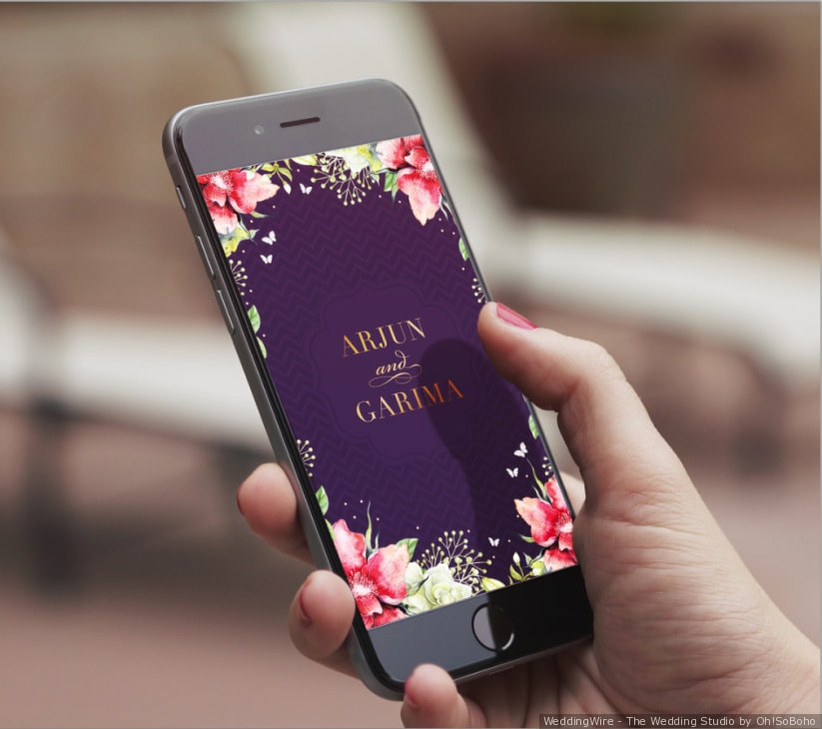 Paperless invitations are undoubtedly deemed more casual unlike PO Box invitations. So, the words and the language you choose may tend to become a little informal. Hence, we suggest you avoid the informal style of texts. Words like, "Your presence is requested" or "Grace the occasion with your presence" gives a honest and genuine touch to your invite. Don't throw in fancy words, it's out of style.
8. Trim long wedding invitation videos

Obviously, you know that WhatsApp has a file limit of 16MB for videos which gives you approx. 90 seconds. If your video is longer than 90 seconds, you will need to trim it. Of course, this can't be good if you have already received your video. Therefore, make sure to create a video within this time frame or else you will be spending more time, money and energy in editing the video or rather sending a trimmed version to the invitees which are not so cool.
Additional tips to note while sending your WhatsApp Wedding Invitation

1. The key is to be precise. You don't want the guests to become bored that they have to fast forward the video invite. Ensure that the guests have all the wedding details right within the first read.

2. Since it is a digital invite, create a group for RSVP. In case of any changes, notify your wedding guests immediately. One less detail and things can go out of hand.

3. Don't be too formal. Bear in mind to make the invitation a little personalized. As you are opting for a WhatsApp wedding invitation, don't make it too formal. As it differs from the usual handout wedding invitation, the tone of the invitation should be such that the guests feel welcomed and be part of your wedding.

4. As you are choosing a digital platform for the wedding, you can browse through numerous digital blueprints. Pick a few designs first and select the one that goes best with your wedding theme and your interest.

5. Ask for friends and family's suggestion. You can create multiple WhatsApp Wedding invitation templates and ask your friends, your office colleagues to help you out in getting the theme and the wordings right remembering that you will be sending the invites to them as well.

Regardless that you are sending a WhatsApp wedding invitation video or e-cards, you know the points to keep in mind. It is always better to be prepared than to avoid hassles.