Look every bit divine and ethereal by following these 11 steps for the perfect Kerala bridal makeup look that is created to make you look perfect.

A Malayali bride in a gorgeous saree, floral accessories and temple jewellery is sheer elegance and grace. Take a closer look and you will find that Kerala brides don a distinct bridal makeup that looks flawless and natural. The overall look of the Kerala bridal makeup is simple yet distinguished that allows the Kanjeevaram Saree and Kerala Wedding Jewellery take the limelight.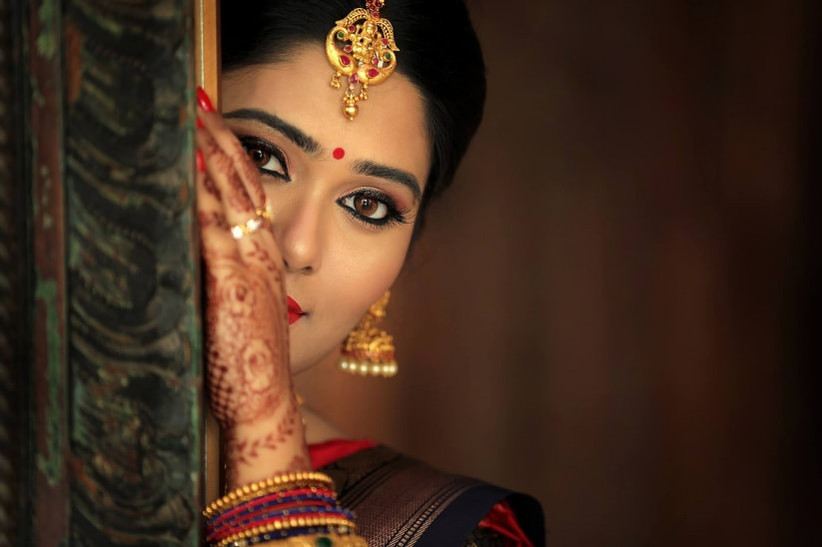 Kerala bridal makeup is quite subtle. It's all about keeping it natural as many weddings take place in the daytime. If you are a to-be Kerala bride, then here is your guide to master the Kerala bridal makeup.
1. Prepare your face

The first step is to prep the face. So before you begin to apply any makeup, make sure to wash the face thoroughly. Make sure to use a mild and gentle cleanser. After cleansing the face, use a toner as per your skin type. Also, apply a good moisturizer to maintain skin hydration.
2. Hide any flaws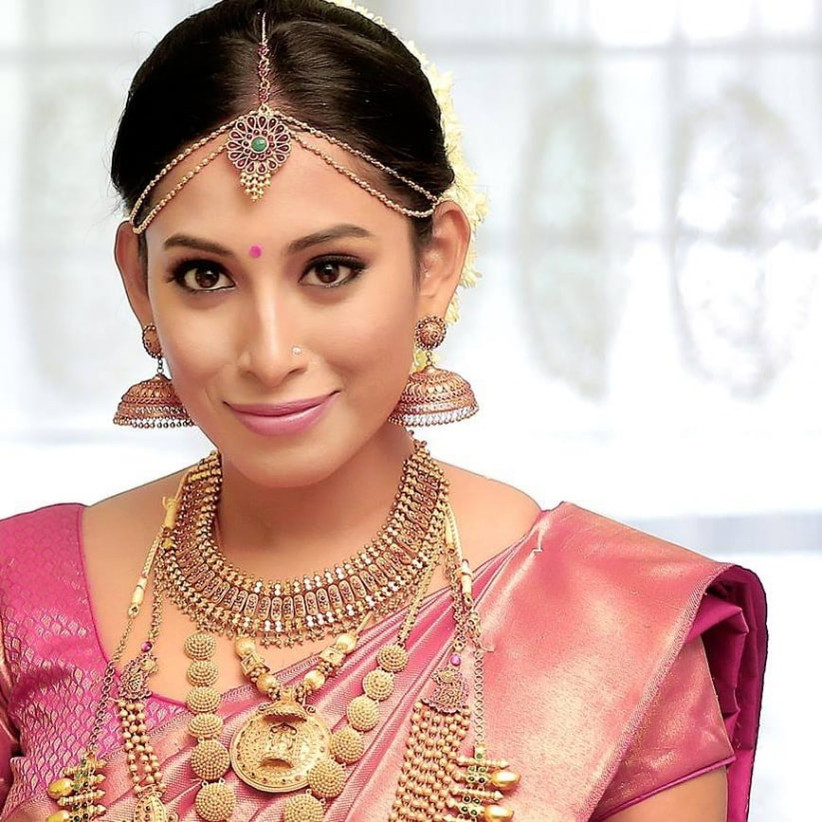 It almost gets impossible for the bride to care for her skin among the hullaballoo that surrounds the wedding. Improper diet, irregular sleep cycle and stress can weigh on the skin that can cause dark eye circles or zits.

Use a primer as the base for the makeup to stay for longer hours. A good brand of concealer also helps in hiding these blemishes effectively. Apply it around the eyes, blemishes to give you a clean, clear look.
3. Using the right foundation

Glam up your face using the right foundation. Choose a foundation that is one or two shade lighter/higher than your skin tone. Don't go 2-3 shades up as it gives a false appeal.

Foundation should be applied as dots in the face and neck area. You can use rosewater to blend the foundation nicely.

To choose the right foundation, seek an expert's advice.
4. Set the foundation

Apply a layer of loose powder to set the foundation.
5. Eye makeup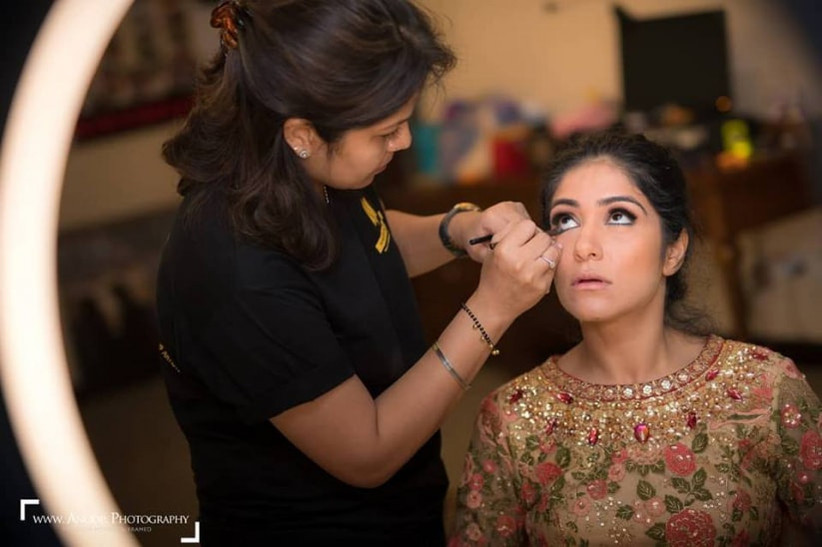 This is the part that takes most of the time. The key is to give a subtle yet classy look to your eyes.

Firstly, prepare the base using an eye primer. Apply it on your eyelids. You can also use a foundation to serve the purpose.

Once you have prepared the base, correct your eyebrows. Use a brown coloured eye pencil and fill your brows but don't go overboard as it can ruin the entire look.

Eye shadow: Choosing neutral shades is a good decision as Kerala bridal makeup is all about keeping it simple. You can go for a glittery brown or bronze eye shadow. Do not apply near the vicinity of the eyebrows. Use an eye shadow brush to blend it nicely. One line of the eye shadow must be applied to the lower lid.

Apply a lighter shade under the brow bone. Now, apply eyeliner and kohl. Use waterproof and smudge proof kajal. Use two coats of good curling mascara. As Kerala bridal makeup is less dramatic, keep the liner thin-medium minus the wing.
6. Blush it up

As the wedding is in broad daylight, chose a shade closer to the natural blush. Use a light pink or peach shade to blush your cheeks. Apply it to the cheekbones to highlight it as well.
7. Press it again

Apply a little loose powder again. Don't apply too much. Just dab a little bit.
8. Highlight your features

Use a bronzer and apply it on your cheekbones, temple, bridge of your nose, the bow of your lips and chin. It is to give a dusky glow to your whole makeup.
9. Highlighting the luscious lips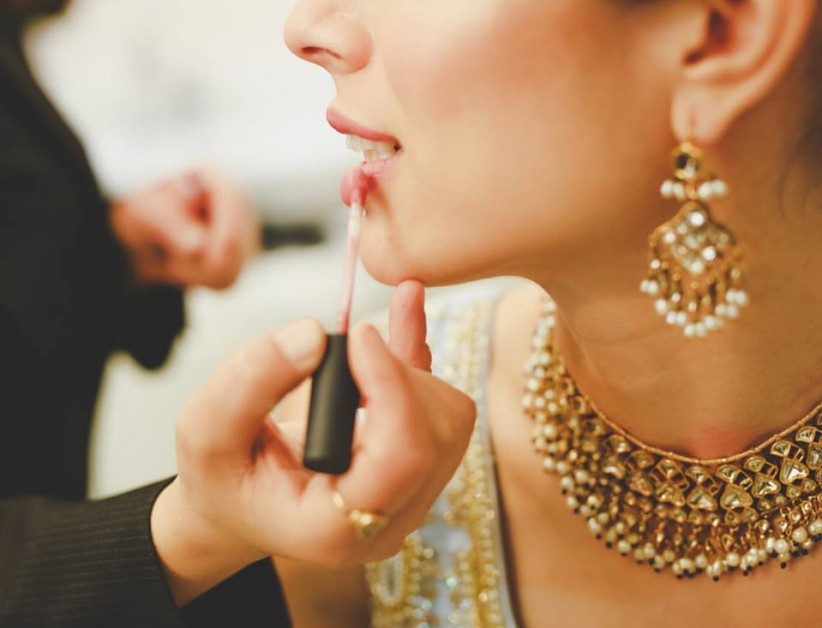 Outline your lips using a lip pencil. Then, apply lipstick. Use a natural lip colour that completes your Kerala bridal makeup. Go for peach, shades of peach or a mixture of pink or red. Apply a coat of lipstick using a lipstick brush. Blot it using a tissue paper to remove excess lipstick. Apply another coat. You can use a gloss or opt for a matte look.
10. Finish the look with Bindi

Any Hindu wedding is incomplete without the Desi Bindi. A big red bindi is a vital part of the Kerala bridal makeup.
11. Gorgeous Hairdo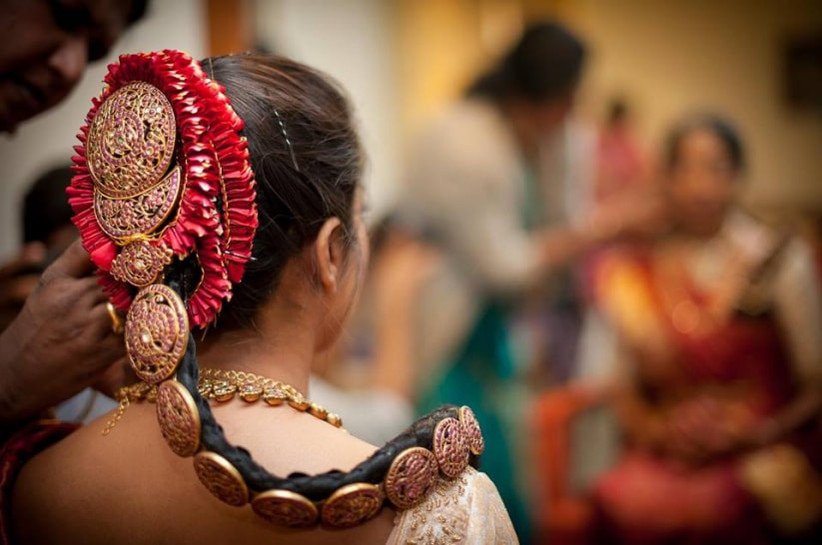 When it comes to hairstyle, Kerala brides do not prefer to break the tradition. The Kerala bridal makeup features the bun-braid combination or the long, trailing braid that is adorned with fresh Jasmine flowers, and embellishments made in gold or artificial.
Tips to keep in mind
The colour profile of the Kerala bridal makeup should be soft and warm while accentuating the bride's features which includes complimenting her bridal attire.

One of the main highlights of a South Indian bride is her eye makeup that is non-dramatic yet steals the limelight creating a perfect harmony.
Many brides opt for mute colours as their wedding Saree that defines their beautiful Kerala gold jewellery and stunning bridal makeup. A Kanjeevaram saree also adds a touch of glow to the overall bridal makeup.

Kerala bridal makeup is distinctive, stunning and effortless as it enhances your natural features. A confident and graceful Kerala bride looks divine in her Kanjeevaram silk saree, gold embellishments, and fresh flowers in her hair.

We hope we have covered all the tips of Kerala bridal makeup that will help you achieve the desired glam on your big day.

Find your Kerala bride by registering at Kerala Marriage.