In this article, we will give you the complete guide for
Karva chauth 2020.
Karva Chauth is a one-day festival that is celebrated by married women for the health and wellbeing of their husbands. This year
Karva Chauth will be celebrated on Wednesday, 4th November 2020.
In olden days, Karva Chauth was celebrated as a prayer for the safe return of soldiers who left their wives and children to fight battles. Today, however, it has become a ritual where women perform to celebrate their undying bond of love between her and her husband.
During Karva Chauth, women fast from sunrise till moonrise and pray for their husbands' safety, longevity and prosperity. Usually, it was celebrated in North India, but nowadays, people in other regions have also started celebrating it.
Unlike the olden days, when only women fasted for Karva Chauth, today men too fast for their wives. Remember when Ayushman Khurana fasted for his wife – Tahira? The modern Karva Chauth is exciting and fun while binding both the husband and wife in love.
However, if this is your first Karva Chauth and you live away from your family, then planning your first Karva Chauth can seem like a daunting task. Fret not. We will offer you the complete guide of Karva Chauth which includes pre-Karva Chauth rituals, main pooja, gift ideas, or Post-fast surprise so that you will have a good Karva Chauth.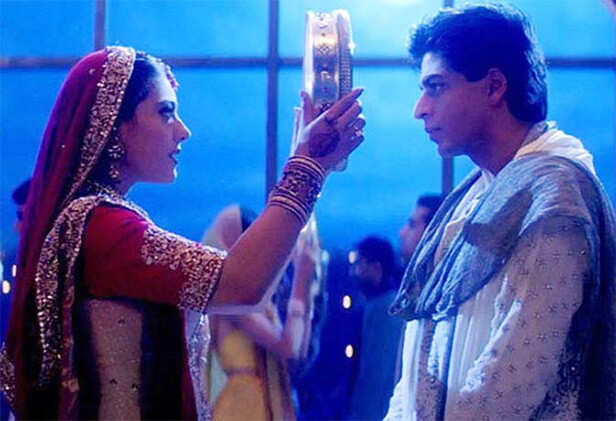 How to celebrate Karva Chauth 2020

Preparations for Karva Chauth begin weeks or days before as it involves a lot of shopping that needs to be done.
Pre-Karva Chauth rituals
1. Shopping

As per tradition, women dress up like new brides. So, you must wear new clothes, makeup, and jewelry on Karva Chauth. Buy ethnic Indian attires such as Saree, lehenga, and 16 adornments (Solah Shringar), new jewelry and makeup.

To conduct the pooja, you need to buy Pooja thali, Karva lamps, Chalni (sieve), and clay lamps. Fresh fruits, flowers, and sweets can be bought on the day of Karva Chauth.

Material required for Karva Chauth pooja

• A clean spacious area to conduct the pooja
• Small idols of Goddess Parvati, Lord Shiva, Lord Kartik, and Lord Ganesha
• Karva Chauth storybook (katha)
• Matthi (fried snack) for bhog
• Rouli (Red chandan)
• Red thread (called kalawa/mouli)
• A platter with sweets, a glass of water, and Diya (i.e. a clay lamp filled with oil and a cotton wick)
• Money for chadawa (offering)
• A circular sieve i.e. Chalni
2. Henna (Mehndi)

Another important ritual of Karva Chauth is applying Mehendi on your hands. Though women used to apply henna on the day of Karva Chauth, nowadays, it's done the day before the festival for convenience as it saves you a lot of time on a special day.
Things to do on the day of Karva Chauth 2020

As all the shopping and necessary preparations are completed the day before, enjoy the day of the Karva Chauth by fasting, conducting rituals and getting all decked up for the special moment.

Following are the rituals to be done on Karva Chauth.
1. Get up before sunrise for Sargi

On the day of Karva Chauth you must get up before sunrise to take a fresh bath and eat Sargi. This is a pre-dawn meal which as per tradition is given as a gift by the mother-in-law to her daughter-in-law. If you live alone or if your mother-in-law resides in another city/country, then you can make Sargi yourself.

Sargi is a sweet delicacy that contains protein-rich dry fruits, milk, fruits, and snacks. You can even include your favorite dishes but ensure the Sargi contains food high in fat and is super nutritious. This is to keep you energized throughout the day.
2. Get ready for the Evening Pooja

Once you have completed Sargi, dress up and be ready for the evening puja.

The fast starts at dawn and continues until the moon rises. During the entire period, women should neither eat nor drink water. Once you have completed the pre-dawn Sargi, you can take rest.

Customarily, fasting women are not allowed to do any housework because of the tough nature of the fast. However, if you live in a nuclear family, you can ask your partner to help you out with the daily chores.

Karva Chauth features two poojas – one to be done in the evening before sunset and at night once the moon rises.
3. The evening pooja

The evening pooja is a women-only ceremony and is to be performed before sunset. In this ritual, the women wear new clothes, put Shringar and gather at a specific place to perform the ritual. They sit together in a circle with their pooja thalis in their hands. The oldest woman in the group recounts the story of Karva Chauth (called Karva Chauth Katha) and sing the Karva Chauth pooja song while they pass their thalis around in the circle.

Once they finish the story, women pray to Goddess Shakti (Parvati) for blessings and touch the elders' feet. After the ritual concludes, women sit patiently awaiting the moon to rise.
4. Things to do while waiting for the moon

Since women will be fasting the whole day, there are no household chores to handle this day. Hence after evening pooja, you can rest, watch Netflix, play board games, walk around the park, or invite your friends over.

In olden days, Karva Chauth ritual was quite strict and women could only idly wait for the moon to appear. However, with evolving times, women have found ways to keep themselves entertained during the fast.

For instance, you and your partner can catch a movie or spend some time at the mall. Watching a movie will deliver the right distraction and take your mind off food.
5. Breaking the fast at moonrise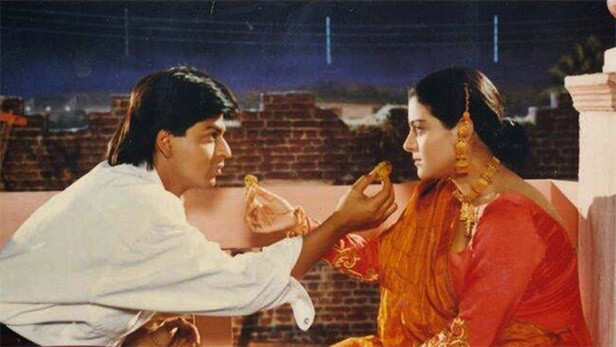 As the moon appears on the sky, you can conduct the pooja and break the fast. Make sure to prepare the "Pooja Ki thali" beforehand.
The Thali should have:
Diya (earthen lamp)
Karva Chauth pot filled with water
Sieve (Chalni)
A cloth covering the Karva Chauth Dhoop
Camphor
Rice
Kumkum
Sandalwood Powder
Some sweets & Dry Fruits
Make sure to perform the ritual in a place where the moon is fully visible such as terrace, lawn or a community garden.
Once the moon rises, light the Diya and view the moon through a Chalni (sieve). View your husband via the Chalni. Follow it by offering water (Arka) to the moon to secure blessings. Say a small prayer for your husband's well-being.
Now it's your husband's turn to break the fast by offering you some water from the pot. He can feed you some sweets to complete the pooja ceremony.
The Karva Chauth is concluded by you and your husband having food and exchanging gifts.
Also, take a look at our article on
healthy tips to follow for your first Karwa Chauth
.
We at
Kerala Marriage
, help you find your soulmate. Simply register with us online for FREE and be one step closer to finding your ideal partner.