A typical Indian wedding is an amalgamation of various musical instruments. While Wedding music in North India is dominated by Shehnai, two instruments – Nadaswara and Thavil hold the flat for South Indian weddings. In this article, we will talk about Nadaswaram and Thavil at South Indian weddings and its importance.

Did you know that Shehnai was replaced by Nadaswaram at Aishwarya Rai and Abhishek Bachchan's wedding to give it a Southern flavor?

All about Nadaswaram

Be it a Tamil Brahmin Wedding or an Andhra Reddy Wedding, the tradition of using Nadaswaram and Thavil goes back to centuries and since has been predominant in all South Indian marriages.

Also known as Nagaswaram, it is among the world's loudest instruments. A wind instrument, Nadaswaram is quite similar to Shehnai. The acoustics of this instrument is so divine that it enhances the wedding vibe significantly.

Just like any other instrument that needs training, Nadaswaram just cannot be played by anyone. One needs to be properly trained to acquire the skill. In fact, musicians also known as Vidwans spend years learning and perfecting it. The Nadaswaram is paired with Thavil which is a pair of drums.

The Thavil is a barrel-shaped percussion instrument that accompanies Nadaswaram. Used in folk music as well as classical music of South India, it is a vital instrument and is known as Periya melam.

The drum consists of a barrel-shaped solid shell that is made using a large cylindrical block of jackfruit wood. It is about 16" long and 13½" in diameter and ½ cm in thickness. Both the sides/faces of the instrument are of the same size. The left face of the drum is filled with a paste on the inside of the drum face in a circular shape of 2".

The skins (such as buffalo or goat skin) are used as layers and are stretched and stitched over the faces using 6-7 bamboo sticks and tied with hemp hooks. The right head is played by the right hand, wrist and fingers and the left head is struck with a stick held in the left hand. Occasionally, the player wears thumb caps made using rice flour or maida flour on all the fingers of the right hand. These caps are called 'Koodu' that gives a deep effect and volume to the Thavil.

The stick used on the Thavil is hard and is made using Portia tree wood (Purasai). The Thavil hangs on the shoulder of the player using a strong strap.
Interesting facts about Nadaswaram and Thavil

Here are some interesting facts about Nadaswaram and Thavil.
Each and every part of the Thavil is made in various towns and villages. For instance, the jackfruit drum is made from Panruti in Cuddalore.

The steel rings (valai) is made of iron pipes used to attach the leather is made at Thiruvaiyaru Valangaiman and Kattumannarkoil which is the birthplace of Vaishnava Acharya Nadhamunigal.

Steel belts to fix the valanthalai (right side) and thoppi (left side) of the drum and its connecting rod in the middle of the drum are made at Mayiladuthurai.

An essential part of traditional South Indian Wedding music is the Ketti Melam. It is a special tune that is played at the exact moment the groom ties the Mangalsutra (Thali) on the bride's neck. It is believed that the Ketti Melam wards off evil sounds. At the auspicious moment of Thaalikettu (tying the Mangalsutra), the Nadaswaram is played at a loud volume to ensure that you don't hear anything else when the Ketti Melam is played.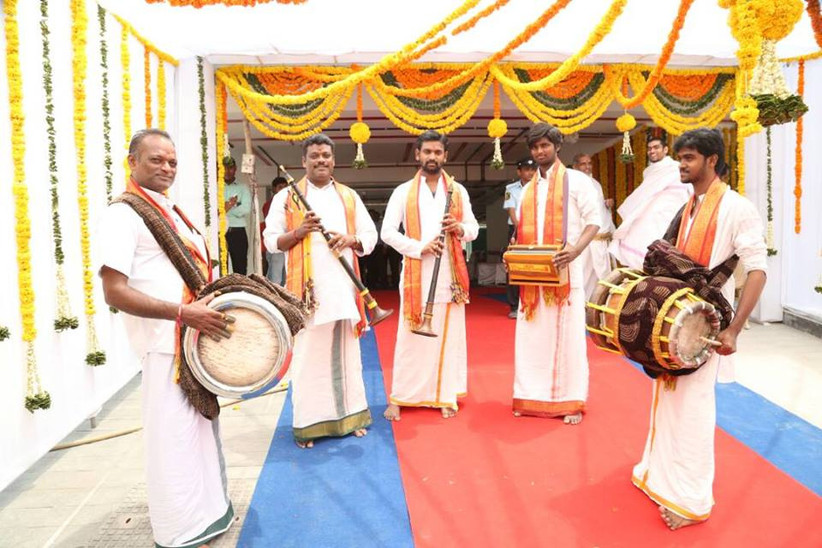 Legendary Artists

Partisans of Nadaswaram include Thirvengadu Subramania Pillai, TN Rajarathinam Pillai, Sheik Chinna Moulana, Thiruvuzhimizhalai Subramanya Pillai and Karaikurichi Arunachalam.

There are more than 20 government schools and many music institutions where one can learn the art of Nadaswaram and Thavil. However, the students who enroll in these schools come mainly because they are not allotted admission in other streams of education.

Another point to note is that the Nadaswaram and the Thavil are extremely tough instruments to play. To practice and master these instruments, you will need years of practice under the guidance of an expert.

Regardless of the challenges, South Indian Wedding is incomplete without Nadaswaram and Thavil.

That said, if you are planning a wedding and thinking of selecting a Nadaswaram player, then make sure to look at these three points.
1. Experience matters

When you are hunting for Nadaswaram players, make sure they are well-experienced. Don't concentrate on the price. At times, you may find the right players but not at the price you expected. The price may be high but then quality is what matters. Your wedding is an important day and crucial things such as music don't call for penny-pinching.
2. Look for professionals

Hiring a professional musician can a great impact. Do not settle for someone who is an amateur or has only a few years of experience.
3. Research and Review

Do not make quick decisions when it comes to choosing wedding music company. Research and bring different options at the table. Then make a choice going by what's best. With everything available on the Internet, you can check websites and YouTube to understand how musicians play.

Check the reviews of Nadaswaram group. With social media accounts and websites available to check the reviews, you can get to know more about the group and gauge if they are best to play at your wedding.
4. Book a player's live performance

The best way to choose the right musician is by hearing them play live. If the musician is good, it will obviously show. If you find them professional and talented, book them immediately.
5. Check for the booking date

A popular and good band will always be in demand. So when you are planning to book them for your D-day, it is best to confirm with their dairies and then confirm.

Nadaswaram and Thavil at South Indian weddings always have a special place and are irreplaceable. Make your wedding day memorable with these instruments that everyone will remember in the years to come.

We at Kerala Marriage can help you find your right partner. Simply register online at our matrimonial site and find your ideal soul mate today!!!