In this guide, we give you 10 stunning and simple Mehndi designs for grooms that will be trending 2019-2020.

As per the Hindu tradition, both men and women were supposed to apply henna. However, over time mehndi became more of a girl thing. Even today in many parts of India, as per Hindu traditions, grooms actively participate in applying mehndi designs. While bridal mehndi designs include applying henna tattoos on palm and the back of their hands and legs, groom designs are simpler and cover only their palms.




Simple mehndi designs are not just circles in the palms anymore and have evolved into much alluring designs and patterns that will look good on grooms as well.

We might think mehndi is a bit foreign concept for the men. However, many modern day grooms are quite excited about the mehndi ceremony and couldn't imagine anything better than to get prepped with mehndi designs tattoos on their hands.

Unlike brides who have to sit patiently for hours, men are not a fan of complex designs and generally don't have the patience. Therefore, we give them these 10 simple mehndi designs for grooms.

You and Me design
What better way to show that you and she are destined to be together by embedding her name in Mehndi!!! This is a simple Mehndi designs pattern for grooms. The embellishments include checkered patterns on fingers of one hand while peacock design on the other.
Indian style Mehndi design
The
Indian Mehndi design
is simple, beautiful and is summarized with mandalas. Starting with a dot in the centre of the palm, it extends to the edges of the palm or towards the wrist and the mandalas. This Rangoli design is very much in trend.
Spiritual Mehndi design
Get the blessings of the Almighty in with this mehndi design that etches out Lord Krishna on your palm. Looking straight like a mural painting, though this is a simple and minimal Mehndi design, it is yet tad difficult to get it this precision right.
Arabic Mehndi design
The
Arabic Mehndi designs
are not only easy but also elegant. These designs depict the beauty of flowers, vines and leaves making it stylish and trending. The design begins with one stroke on the wrist moving up to the index or the middle finger. For grooms who want something that is simple yet stylish, this
Arabic mehndi tattoo
looks excellent on their hands for the big day.
Egyptian Mehndi design
The geometrical shapes, lines and dots speak for themselves. Egyptian Mehndi designs carry a hint of folklore in their patterns making it stylish for men and women.
Sun and Moon inspired design
This
latest groom mehndi design
is a sure to make you a trendsetter. All thanks to this unique pattern, this sun and moon inspired mehndi tattoo covers most of your palm and is still appropriate due to its geometric pattern.
Squared pattern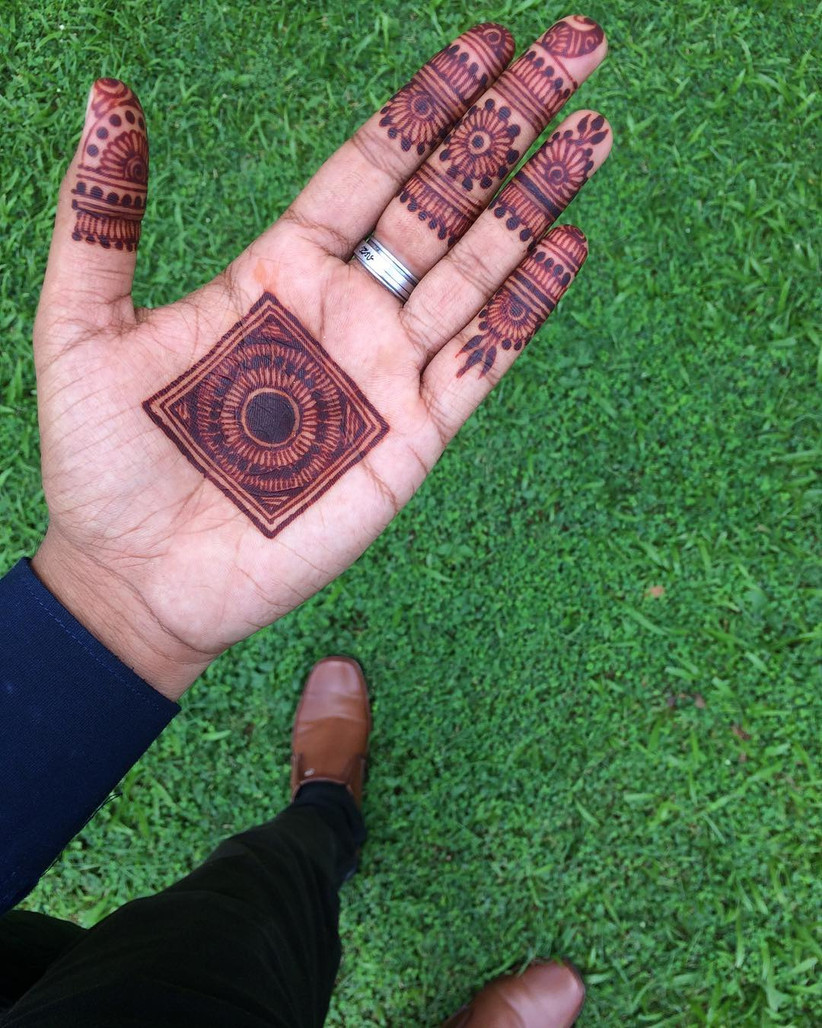 There is something so raw and manly about this tribal-inspired and geometric design. Combine them with open, linear spaces to give a bold
groom mehndi design.
Filled hand design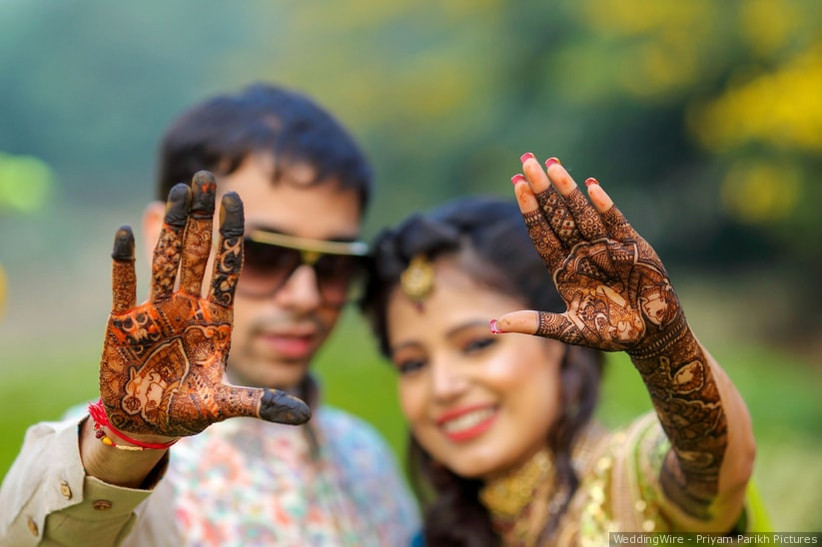 Remember the
'Channa Mereya'
song featuring Ranbir Kapoor? Match your bride's mehndi with these intricate details. Choose a main design and make it a key element.
Mehndi Swag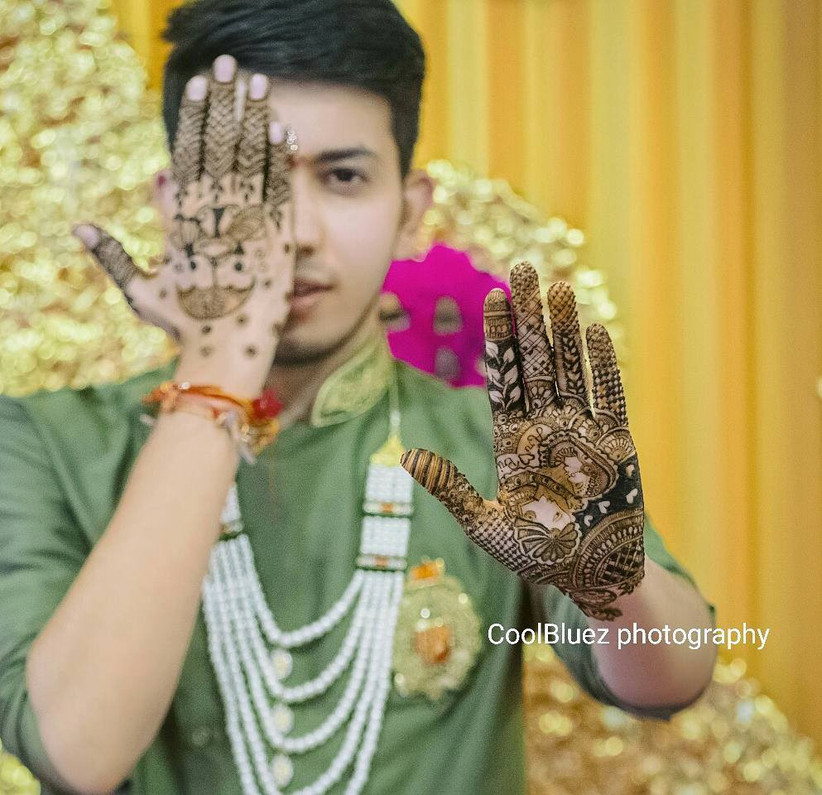 This
Mehndi design for dulha
is sure to make heads turn with his swag and his traditional set of mehndi hands. His groom mehndi design on his palms is sure to make even the bride's hennaed hands into submission.
Bride's Caricature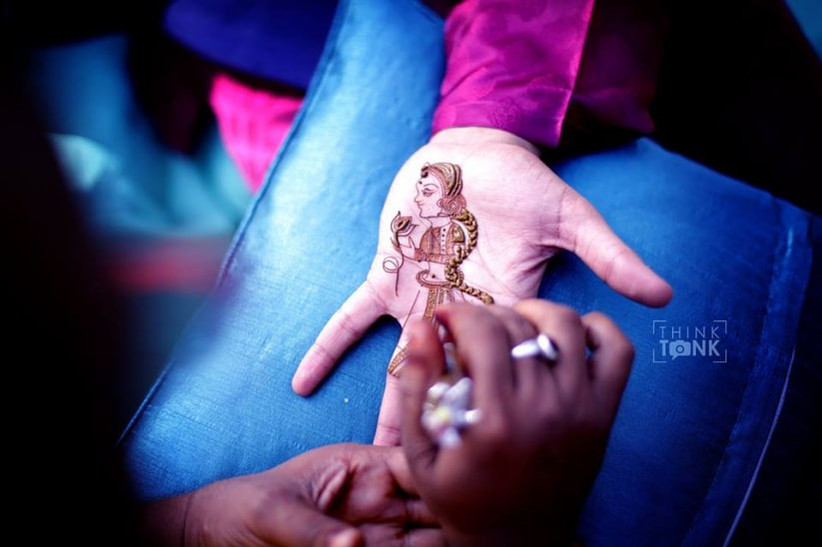 Ask the mehndi artist to make bridal design on your hand as it will be the ideal wedding present for her. She will be thrilled to discover a version of her in your hand.
Here are some quick tips for you to follow
Clean your hand with warm water to prep your hands before applying henna.
Apply eucalyptus oil or mint oil on the hands before applying the henna. It not only opens the pores but also helps in giving the henna a dark color.
Make sure the room is well-ventilated as sweaty hands can mess up the henna designs.
Always have tissue or waste cloth so that you can wipe off when you make a mistake. But make sure to do it within a minute.
Once you finish the design, apply a mixture of lemon juice and sugar with cotton balls. This also helps in enhancing the mehndi colour. Make sure the henna is dried before applying the mixture. Repeat the process again.
Wait for an hour at least before removing the henna. The henna has to dry completely.
These simple mehndi designs for grooms not only come with a long history but are also trending. Free from any side effects, male mehndi designs are not very complex. It all comes down to personal preference on how you want to set a style at your wedding.